Over the years I've tried a variety of Les Mills classes but it wasn't until I moved to France that I had the pleasure of experiencing a BODYATTACK class on a hot and humid August afternoon. I tried it, nearly died, and left red faced wondering why I thought trying BODYATTACK in a gym with no A/C was a good idea. I vowed I'd never return.
Then I moved back home to the USA, got involved with other fitness classes and never thought about BODYATTACK again because it wasn't offered at my gym. Flash forward three years and here I am back in France at the same gym where I first tried BODYATTACK. I now take the class regularly and I actually look forward to the swift kick in the rear every Wednesday night.
Les Mills Body Attack review
So first, like all Les Mills classes, the music changes every 12 weeks with the launch of a new release. It goes without saying that the energetic music is a plus. The challenging class "combines athletic movements like running, lunging and jumping with strength exercises such as push-ups and squats."
Also like other Les Mills classes, BODYATTACK is entertaining and you're done in one hour — complete with a warmup/cool down/abs. Over the past year, I've been taking BODYATTACK regularly and I'm sharing what I love and hate about the high-energy class.
Want to work out from home? Here's a full review of the Les Mills On Demand app >>
What I love about BODYATTACK
It pushes you to your limits.
I don't know about you, but I work harder when I feel accountable to someone else. When I work out at home, if I'm not feeling 100% and am tired or just blah, I'll cut corners and take the easier option. When you're taking a BODYATTACK class with a bunch of others giving their all, you can't help but catch their enthusiasm. Group fitness motivation is contagious and can be exactly what you need to push yourself past what you thought you were capable of.
Do I KILL IT every time I'm in class? No. But when I know I can go that extra mile, I know I'll have the support of everyone around me to get there and finish strong. At home in my bedroom when I'm working out alone, I'm not accountable to anyone. But in person? I welcome the challenge and I feel good about myself when class is over knowing I tried my best.
If working out at home has become your norm, get a FREE 30-DAY trial to Les Mills On Demand HERE! I can't recommend it enough.
The intensity builds in a manageable way.
Have you ever taken a workout class that goes from 0 to 100 in about 30 seconds? You're out of breath before the first track is even over and debating whether or not you should sneak out and hit the elliptical machine instead. Even for the fittest among us, that type of class isn't for everyone and can leave you feeling defeated. But BODYATTACK? It's mentally manageable.
Is Body Attack hard? Yes, for sure. I'm not saying BODYATTACK is easy by any stretch of the imagination — far from it — but the class is structured in a way that you don't psych yourself out before you start. The warmup gradually builds and the class's intensity level increases at a steady pace.
You can tell yourself that this hard plyo track is going to kick your butt but then you get a quick water break and an easier track after. You're not working at a 10/10 intensity level the whole time and knowing that gets me through it and allows me to give 100% when it's called for.
Peloton vs. Les Mills app: I put the fitness apps head to head… who wins? >>
It's high energy.
If you're looking for a calm and moderate intensity cardio class, skip BODYATTACK because it's anything but. A full BODYATTACK class is sparkling with energy and you can't help but enjoy the ambiance (when you're not gasping for air, that is). If you're feeling blah when you arrive, you'll leave feeling refreshed and proud. But make no mistake, it's not an easy class so be prepared to work.

It builds confidence.
As I said in the intro, I thought my first BODYATTACK class would be my last class but that's not the case. Even in the heat, I make it through and I can't say it's gotten easier as time has gone on but it has become more manageable. That's a major confidence booster and I feel like I can tackle anything now! This is one of my favorite BODYATTACK benefits — feeling better about yourself and what you're capable of doing.
Speaking of confidence, some of us like to get comfortable at home before venturing out into a gym in full view of others. Before trying a class in the gym, I like to get familiar with it via the Les Mills app. Get 30 days free via my link! I did a full review of Les Mills On Demand here in case you're curious.
It torches calories.
Have a big dinner coming up? Overindulge over the weekend? Just want to torch calories? Hit up a BODYATTACK class and burn a ton of calories while sweating it out to fun tunes. The Body Attack benefits can't be overlooked. You feel like you're working the entire time.
Want more Les Mills? Here are 6 BODYCOMBAT truths >>
What I hate about BODYATTACK
It pushes you to your limits.
Yup, this is why I also love it. But BODYATTACK is an all-out effort if you're doing it right. If you give it your all and really push yourself, you'll leave the class feeling completely spent and like you need a nap. It's not a class you can fake your way through. BODYATTACK forces you to commit and if you're not feeling physically or mentally ready, you may want to skip the class that day and try something else.
It can be rough on your joints.
BODYATTACK is full of high-impact moves and taking the class more than 1-2 times a week could cause joint issues and other impact related injuries if you're prone to that sort of thing. I personally know of 4 people — 2 of whom were instructors — that had to stop taking BODYATTACK for this reason.
Even if you don't have joint issues, you still might wake up with sore knees or ankles the next day. You'll jump, run and push yourself right up to your edge and while there are low-impact options, the intensity just isn't there if you're not jumping along with the instructor.
If you're doing it right, you may feel like you want to puke.
Is body attack hard? Uh, yes. High-intensity is not comfortable at all and depending on when you ate last and how you deal with heat and intense workouts, you may feel like you're going to die and/or puke. You won't do either (well maybe) but if you really are pushing yourself, you'll be extremely uncomfortable.
In the moment I hate that, but I know it's good for me in the long-term. And don't be ashamed of taking down the intensity a notch. There's nothing wrong with doing the modifications. You can still get all of the body attack benefits even if you're not going all out.
It can scare people away.
There's no air conditioning at my gym and during the summer when temps are in the 80s and 90s, even a walk in the park is difficult and leaves you drenched in sweat. So the high-intensity BODYATTACK moves are even more difficult in the heat and many newbies leave after just a few songs.
Then they tell their friends how hard BODYATTACK is and any prospective gym-goers mentally cross it off their list of classes to try. It is hard. Even the low-impact moves are a great workout.
But in all honestly, aside from a few seconds here and there when you need a break, 90% of people in my gym go all out all the time with the high-impact moves. And it is intimidating. Especially when you see us leaving the class afterwards all red-faced and sweaty.
That's why I love taking Les Mills classes at home via their app. I can go at my own pace and not feel like I have to keep up with the others if I'm down on energy. Or take a class my gym doesn't offer like BODYSTEP (love!). Get a 30-day FREE Les Mills On Demand trial here.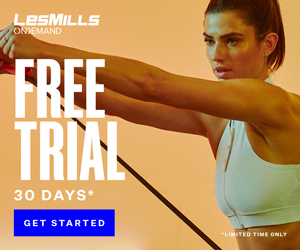 ***
On the fence about trying BODYATTACK? I say go for it. What do you have to lose?
Are you a fan of BODYATTACK or other Les Mills classes? What body attack benefits have you seen after taking the class?
Curious what the Peloton app is like? I put it head to head with LMOD.
Please note I'm a Les Mills affiliate but this post is not sponsored.
Photo credit: Les Mills