If you're looking for a Les Mills free trial for 30 days, you're in luck. Here's my Les Mills On Demand referral link for 30 DAYS FREE.
***
In need of a workout refresh where you can easily stream loads of fun classes from your home? Well, you're in luck. Les Mills On Demand is one of my favorite fitness apps and their classes have been a mainstay in my fitness routine for years.
Curious about what Les Mills is exactly?
Les Mills hails from New Zealand! He was a four-time track and field Olympian who opened his first gym in Auckland back in 1968. Since then, Les and his family have gone on to build the group fitness brand of the same name that's world renowned for its dynamic programming.
In addition to in-person classes that you can take in over 20,000 gyms globally, Les Mills has become a global fitness leader and launched Les Mills On Demand, a fitness app for iOS and Android. With a subscription, you can take classes from your phone, tablet, computer, or cast them to your TV.
They offer 16 exercise programs that range from 15 to 55 minutes that accommodate all skill levels and fitness interests. To keep it interesting, new workouts are released every quarter and every workout is professionally filmed and taught.
Les Mills On Demand is top notch in every category. Read my full Les Mills app review here.
What's the Les Mills On Demand cost?
It's 14.95 € per month or 134 € (best value) paid upfront per year here in mainland Europe. In the US, it $14.99/month if you pay monthly (but only $9.99/month if you pay upfront for the year). Considering the cost of in-person gyms, Les Mills On Demand is a steal.
Les Mills Free Trial 30 Days
You can try it before you commit because Les Mills On Demand has a 30-day free trial via my personal referral link. There's no commitment and once you sign up for the subscription, you can cancel at any time during that trial.
GET the Les Mills free workouts HERE >>
You don't need a Les Mills On Demand promo code. Just click to sign up for the 30-day Les Mills free trial.
Keep in mind it will ask for credit card info to start the free trial, but if you decide to not continue after the free Les Mills 30-Day trial, you can cancel for any reason and you won't be charged.
Are you ready to get started now?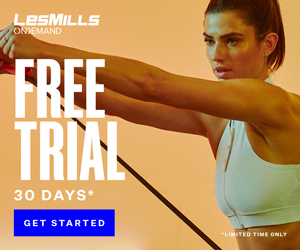 I know you'll love it as much as I do! Enjoy your Les Mills free workouts!
***
Here's more of my fitness content you might enjoy:
Disclosure: I'm a Les Mills Partner. This is NOT a sponsored post.