***Get a FREE 30-DAY Les Mills On Demand trial with my link HERE***
I first discovered Les Mills group fitness classes at my suburban New Jersey YMCA in college and became a fast fan of BODYPUMP and BODYCOMBAT, the only two Les Mills classes they offered at the time. Since then, I've done Les Mills classes on and off for over a decade — including at my gym in France.
I love how the brand's offerings have evolved and expanded over the years and now have something for everyone, including BODYSTEP, GRIT, and more. The most exciting thing for me was the launch of the Les Mills On Demand app a couple of years back.
Read on for my Les Mills On Demand review (now called Les Mills+) and see why this workout app is a must if you want to level up your home fitness game.
Les Mills On Demand review 2023
I first got the Les Mills On Demand app in June 2019 after doing the free trial and fell in love (get your FREE 30-day trial here).
It was the app that introduced me to BODYSTEP (second favorite class after BODYCOMBAT). Between Peloton Digital (which I've written about extensively) and Les Mills On Demand, my home workout game is all set. For someone who is self-motivated to work out alone at home, apps are all you need to stay fit and have fun. They push me in ways I didn't think were possible.
Read my comparison of the Peloton and Les Mills On Demand fitness apps>>
First up, as I mentioned I've been a huge fan of the Les Mills in-person workouts for years, so I'm writing this Les Mills On Demand review as someone who is an experienced group exercise junkie and a major cheerleader for the brand. Les Mills On Demand programming gets a 9 out of 10 from me, so I'll say that upfront.
Let's start with the basics if you're new to Les Mills and then I'll get into my Les Mills app review for 2023.
SIGN UP with my link and get a FREE 30-DAY Les Mills On Demand trial >>

What is Les Mills & Les Mills On Demand?
Les Mills is actually a person. He was a four-time track and field Olympian who opened his first gym in Auckland, New Zealand, in 1968. Over the years, Les and his family went on to build the group fitness brand of the same name that's world renowned for its dynamic programming based on science, top-notch instructors, and high-energy workouts to fun beats.
Over the past 50 years, Les Mills has become a global fitness powerhouse with classes offered in 20,000 gyms worldwide.
A couple of years ago, the brand launched Les Mills On Demand, an app for iOS and Android that makes all of their programs available from the comfort of your own home. With a subscription, you can take classes from your phone, tablet, computer, or cast them to your TV. It's a game changer.
The Les Mills app offer 16 exercise programs in total that range from 15 to 55 minutes in length for beginners and advanced exercisers alike.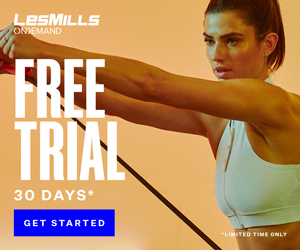 How much does Les Mills On Demand cost?
OK, let's talk pricing. The Les Mills app has two tiers and you can pay monthly or annually (which is the best value). For 2023, the Les Mills "Base" pricing is $9.99/month or $59.99/year if you pay annually. It's a lighter version of LES MILLS+ and gives you only 17 fitness programs — no BODYPUMP, indoor cycling, or ability to download workouts — and the latest 3 releases from each program.
The other option is the "Premium" subscription and it costs $19.99/month or $119.99/year if you pay annually. This tier gives you the full LES MILLS+ experience with over 20 fitness programs and the ability to download workouts.
Considering the cost of in-person gyms, Les Mills is a steal if you're someone who is motivated to work out at home. It's also an affordable add-on to whatever memberships you currently have to give you the option of switching it up on days when getting to the gym in person isn't an option.
You can try it before you commit because Les Mills On Demand has a 30-day free trial. There's no commitment and once you sign up for the Les Mills app subscription, you can cancel at any time.
Les Mills On Demand is all about workouts that fit your lifestyle. They're high energy, effective, and can be accessed anytime, anywhere.

What classes does Les Mills On Demand offer on the app?
Here is a list of the Les Mills workout classes available on the Les Mills app (descriptions via the company's website):
BODYPUMP: This is the OG Les Mills class. It's a full-body barbell workout that uses light to moderate weights with lots of repetition. You work one muscle group per track and by the end, you'll be feeling it everywhere. You need a barbell and weight plates for this class.
BODYCOMBAT: This high-energy martial-arts inspired workout is my favorite class Les Mills offers. It's taught with all non-contact choreography so you won't actually be hitting anyone or anything. It's so fun and you'll feel so accomplished at the end! No equipment required for this Les Mills class except a mat at the end for abs and stretching.
LES MILLS GRIT: Get ready to work in this 30-minute high-intensity interval training (HIIT) workout that is TOUGH. It's focused on improving strength and building lean muscle. Choose from cardio, strength and plyo-based workouts. Equipment needed so grab it here. Advanced class.
BODYBALANCE: This is a low-impact yoga-based class that focuses on the mind/body connection. It's a great option for a low-impact day or when you want to take it a little easier.
LES MILLS CORE (formerly called CXWORX): This is a 30-minute core-focused workout that will work your abs, glutes and more. This class packs a major punch and is one of my favorites, especially the glutes track with a band. It'll fly by. You'll need light weights and resistance tubing like this. Even with the modifications, you'll get a killer ab burn.
LES MILLS SHAPES: This class is brand new to the lineup as of September 2023 and is a mix of Pilates, barre, and power yoga set to modern music. The focus is on small, controlled movements and you'll sculpt and strengthen all major muscle groups while improving alignment and increasing flexibility. It's a low impact but intense way to shake up your training. Here's my discount link for the Shapes equipment bundle.
LES MILLS SPRINT: One of the newer offerings, this is a 30-minute High-Intensity Interval Training (HIIT) cycling workout.
THE TRIP: Visually immersive 40-minute multi-peak cycling workout with a route through digitally-created worlds.
RPM: This stands for revolutions per minute and is an indoor cycling workout consisting of sprints, climbs, and interval work.
BODYATTACK: Challenging high-impact class that mixes athletic movements like running, lunging and jumping with strength exercises such as push-ups and squats. Your heart rate will be sky high. Challenging class but modifications make it doable if you're still working on your cardio endurance.
BODYSTEP: A full-body cardio workout that uses a step platform both horizontally and vertically. Along with BODYCOMBAT and CXWORX, this falls into my top 3 Les Mills workout classes. Step is old school but the choreography modernizes the fun class from back in the day. Step and light weights needed.
TIP: If you're doing BODYSTEP via the app at home (and not at your gym where equipment is already available), buy a professional quality step from Les Mills or atleast one that's as wide as the ones you find at the gym like this one or this one. I made the mistake of buying a budget quality step and realized after the fact that it was too narrow to safely do the choreography, especially when the step was placed vertically.
SH'BAM: A fun-loving, insanely addictive dance workout. SH'BAM™ is an ego-free zone – no dance experience required.
LES MILLS BARRE: Modern version of classic balletic training; a 30-minute workout designed to shape and tone postural muscles, build core strength. The class uses ballet terms and has a couple of peaks to get your heart rate up.
LES MILLS DANCE: Shaped by international dancer and choreographer Gandalf Archer Mills, this collection of banging dance routines brings you some of the freshest dances out there in easy-to-follow blocks.
LES MILLS TRAINING: Total body workout that's a pre-cursor to GRIT.
What are the Les Mills On Demand workouts like?
They're top notch. I don't say that lightly. Overall, Les Mills workout classes get a 9 out of 10 from me. Smart programming, variety, fun, and always high-energy, Les Mills puts out some of the best workouts available and the fact that we can access them all On Demand is incredible. A major perk for me was that I could do classes that my gym didn't offer in person, like BODYSTEP.
Something that's great about Les Mills is that classes are accessible to all levels and modifications are given in case you need to scale back. That said, the classes are not a snooze by any means. BODYATTACK is meant to be a high-intensity workout and one thing I love about taking it on the app is that I'm only in competition with myself.
At my local gym, although the instructor always demonstrated the lower-impact option, everyone was always giving 100%, so you felt kind of silly if you were the only one not jumping and pushing yourself to your max. I have a bad ankle and hated doing any jumping moves where you'd jump on one foot but felt silly if I was the only one doing the modification.
At home, it's me against myself and I love modifying the moves I'm not comfortable doing safely.
Along with that, I love that there are modifications for pretty much every class making Les Mills On Demand a fantastic exercise app choice for exercisers of all levels. CXWORX, now called LES MILLS CORE, is one of my favorites and on days when I just can't do all the planking on my feet, I'll drop down to my knees as a modification and I still get an amazing workout.
Les Mills classes are taught team style with a handful of instructors in nearly every class, so you're coached by several people in each workout. They'll switch off seamlessly after each track and everyone does the entire workout with you. One instructor often does the modification options.
Class settings vary from a stage to a studio to a gymnasium. Some classes have an audience that you see in the shadows that does the class along with the instructors.
All Les Mills workout classes are professionally filmed and produced on the Les Mills app — lighting and sound included. Nothing is off the cuff, no crazy stories, mistakes, or teaching on the fly. Every single second of each class is a carefully orchestrated dance and taught perfectly. The style of classes from one release to the next is consistent so you know what you're going to get.
Instructors are super experienced, with just a handful in their 20s. Most are older.
Les Mills On Demand makes it easy to work out at home with whatever time you have available. The hardest part is pressing play. Once you get started, the energy of the workout will carry you through and it'll be over before you know it.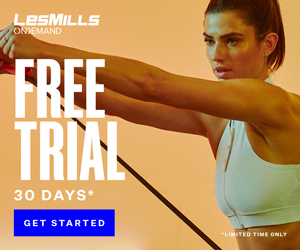 Get the Les Mills On Demand app 30-day FREE TRIAL here >>
Pros of Les Mills On Demand app
–App is easy to navigate and use. It's simple to find the perfect workout. All classes are professionally filmed and coached.
-You can stream on up to 3 devices at once making it easy for several people in your household to work out at the same time.
–Les Mills workout classes are just like they are at an in-person gym. Well structured, perfectly coached, and high energy.
-You have access to ALL of the Les Mills programming. There are regularly new releases and 16 different types of classes from which to choose. The lack of variety was one of the drawbacks of Les Mills' classes at my in-person gym. We'd be stuck with the same release for 12 weeks and by week eight or so, I was bored of doing the same thing to the same songs.
This is NOT the case with On Demand because there are so many releases to choose from — literally hundreds and hundreds of classes overall. On top of that, you have variety in terms of length, including the full class, an express version, or even a remix.
–Affordable at 14.95 €/month and can cancel anytime.
–Solid programming that's consistent across releases. If you like one type of class, you're sure to get a professionally filmed similar workout with every release.
-You can download Les Mills workouts to your device and work out later without an internet connection. This feature makes working out anywhere a breeze.
Get a FREE 30-Day Les Mills On Demand TRIAL via my link >>
Cons of Les Mills On Demand
–Not all classes were filmed before a live audience so you don't always feed off the energy of the room. Like other apps that offer live streamed classes in real time, Les Mills does not. There are no classes that are streamed live in real time. Every class you take on the app has been previously recorded and is on available on demand.
–Can sometimes feel a little too corporate and scripted. Instead of feeling like you're working out with a friend who you know a little bit, the coaching feels less personal and more polished. The instructor is teaching a class and often not looking into the camera talking to you. Sometimes the instructor banter can seem forced and cheesy.
-Because you're working out alone with no one to hold you accountable, it's easy to take a quick break here and there when the track gets really hard instead of sticking it out and pushing until the end. I find myself taking quick breaks during CXWORX where as when I'd take it at my gym, I'd force myself to keep going, not wanting other people to see me give up.
When we're alone at home, the Les Mills workout is not the same. I find that on days I'm a little tired, I need to push myself a little more at home to stay in it until the end. This is the case for all app-based workouts though and not specific to Les Mills On Demand.
-If you stream the workouts on a small device, sometimes it's hard to see exactly what the instructors are doing. They often wear black and the sets can be shadowy and dark, as shown above. This isn't a big deal because you'll learn the moves in no time, can rewind, or can stream the workout on a larger screen.
Not all of the Les Mills classes are dark but some settings do make it more difficult to see properly. Sometimes I find myself straining to see what's going on — especially on new releases that I don't know by heart yet — and wished they'd use a white or more well-lit backdrop. I find this to be less of the case for the more recent workouts.
–No feedback on form. It comes with the territory of working out via an app since you don't have live feedback like you would at an in-person class. If you're new to working out or just don't have great technique in general, it's hard to know if you're doing each move correctly.
From a safety perspective in Les Mills workout classes and all classes actually, you risk injuring yourself or just not working the muscle properly. People who are already familiar with Les Mills classes will get the most out of the app.
For newbies, there are great tutorials for technique and information about the programs that are perfect for beginners. Be sure to start with those videos if you're new.
–Some of the classes require equipment (like BODYPUMP) and that can be an added expense, especially if you buy the Les Mills equipment new. But it is super high quality and worth the investment.
–No option to choose classes with a certain instructor if you want an entire class taught by the same person. We all have favorites and it would be nice to be able to select a particular instructor.
None of my cons here in my Les Mills On Demand review are deal breakers and speak more to personal preferences than actual negatives. I absolutely love the Les Mills app and emphatically recommend it to anyone interested in home workouts.
As always, there's room for improvement and as the brand and technology evolve, I know Les Mills will pack even more into their already fabulous app.
***
Hope you enjoyed my Les Mills On Demand review. Are you an app subscriber? What are your favorite classes to take? If not, sign up for the 30-day free trial and you'll never look back!
Be sure to stock up on Les Mills equipment HERE.
Peloton vs. Les Mills app: Which popular fitness app is better? I compare them here.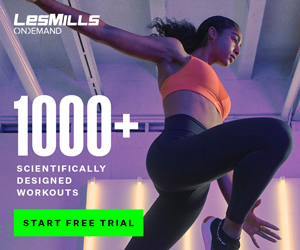 Disclosure: I was NOT compensated for my Les Mills reviews and pay for my subscription. I am part of the Les Mills Partner Program.
---
PIN MY LES MILLS REVIEW 2023: